"There are some things you learn best in calm, and some in storm" ¹
– Willa Cather
It's interesting to look back and think of the series of events that enabled me to walk the road I'm currently on. There are some moments of success but perhaps more moments that seemed like failures at the time but opened up new paths. There are so many different persons (so many that mentioning all would be a project in itself) who have played a big part in my growth as a musician and many of them have been role models not only as musicians but as human beings as well. This is my way of paying tribute to the teachers and musicians, whom without this project never would have happened.
Jonas Hellborg – Bass
The record "Good people in times of evil" (with Shawn Lane – guitar, Selvaganesh – percussion) is one of the most influential records in my path as a musician. It was the first time I've heard the fusing of Indian music, jazz and rock and it really spoke to me. I came across it in period of my life when I was trying to find all the cool fast playing, slap crazy bass players and while Jonas Hellborg is a very technical bass player it was the music that caught my interest. After hearing him my interest for Indian music was ignited which made me apply to the Acadamy of Music & Drama in Gothenburg a couple of years later.
Ahmad al Khatib – Oud
When I started my studies at the Acadamy of Music & Drama my main focus was trying to learn Indian classical music.
Since there wasn't a teacher with that knowledge when I started I ended up meeting the Palestinian oud player Ahmad al Khatib. My knowledge of oud or middle-eastern music wasn't that good but I considered myself fairly good from a technical and rhythmical standpoint having played a lot of fusion-jazz and progressive metal. Within a few minutes of our first meeting he crushed my confidence by presenting a piece of music in the Arabic rhythm called Samai (10/8). After that I spent the next 3 years absorbing as much knowledge as I could from him. He showed me the type of musician I would like to be just by being himself.
Marianne Svasek – Vocal
We first met when she visited my school in Gothenburg and did a workshop on the Indian classical style called dhrupad. After that we met in Rotterdam, where Marianne works as a teacher in Codarts, because she thought I should come and meet this teacher visiting from India (who turned out to be Bahauddin Dagar). And the last time we were in India were we met as students living in the same house sharing laughs, taking strolls and learning music from the same family. Without Marianne I'm sure my quest for Indian music would have been a lot less fruitful and less enjoyable.
Bahauddin Dagar – Rudra vina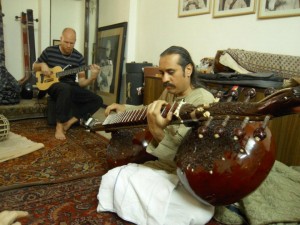 What attracted me to Indian music at first was the virtuoso style of playing and the rhythmical complexity.
Dhrupad music is all about playing slow and this is what Bahauddin showed me and something that I'm starting to really enjoy and appreciate. Everything in the world seems to be speeding up so it made sense for me to slow down my music trying to create some balance and I don't think I would have done this without meeting Bahauddin. Bahauddin is full of music, humor, knowledge and constantly sharing it with his surroundings. I spent a couple of weeks with him in India on two separate occasions, and those periods have been extremely rewarding and creative. Hopefully I can go back in the near future, because I still feel like a beginner in slow world of dhrupad.
Jonas Knutsson – Saxophone
I have always been proud of being from Umeå, a city in the north of Sweden which have generated a lot of great musicians, and so for me to meet and play with a guy that I've been listening to and admiring growing up has been truly inspirational. Having fellow Umeå-native Jonas Knutsson as my artistic guide during my studies at the Royal Academy of Music in Stockholm has been one of the highlights of my years as a student. When meeting in his rehearsal space you always get a nice cup of coffee with a cookie on the side but most of all the opportunity to play & speak about music with a wonderful guy!
Björn Meyer – Bass
I consider myself as a self taught bass player. It might have something to do with being stubborn and wanting to find my own way but part of it is not finding a bass teacher that shares my musical interest. The last year I've had the good fortune of meeting Björn Meyer (whom I have enjoyed listening to in the past) on some occasions and I really like his style of playing but I admire his choices in music. Listen to Björn's playing with Anouar Brahem, Bazar Blå, Asita Hamidi and Nik Bärtsch's Ronin.
I would like to thank some of my teachers through the years:
Richard Ekre Suzzi, Thomas Jäderlund, Anders Hagberg, Petter Berndalen, André Ferrari, Tommy Linell and Pelle Hjelmer.
And here are just a few of the great bass players that influenced me:
Jaco Pastorius, Carles Benavent, Victor Wooten, Rick Laird, Leonard Hubbard, Tommy Thordsson, Pino Palladino, Scott Thunes, Tony Levin, James Jamerson, Les Claypool, Richard Bona, Dominique Di Piazza, Tim Commenford, Avishai Cohen…
And lastly here are some of the wonderful musicians that made a difference for me:
Keith Jarrett, Björk, John McLaughlin with Shakti & Mahavishnu Orchestra, Meshuggah, Regina Spektor, Rabih Abou Khalil, Steve Reich, Joni Mitchell, Primus, The Dillinger Escape Plan, Hariprasad Chaurasia, Miles Davis, Blind Guardian, The Mars Volta, Jan Johansson, Prince, Frank Zappa, Feist, Red Hot Chili Peppers, Weather Report, L. Shankar, The Roots, Anouar Brahem, Peter Gabriel, Esbjörn Svensson Trio, Dave Holland, Rage Against The Machine, Dhafer Youssef, Radka Toneff, Zakir Hussain, Michael Jackson, Bela Fleck & Flecktones, Shawn Lane, Metallica, New Tide Orquesta, Jeanette Lindström, Talib Kweli, Paco de Lucia, Return to Forever, Nik Bärtsch's Ronin, Jill Scott, Renaud Garcia Fons, Allan Holdsworth, Sigur Ros, Mark Guiliana, John Cage… The list is can be made longer…